A simple solution to help you maintain a healthy lifestyle, transform your body composition and measure it all easily.
The physicist-mathematician Lord Kelvin once said…
What cannot be measured cannot be improved.
And when we talk about body recomposition – for example: eliminate 10kg of fat and/or gain 5kg of muscles – it is no different. You need to properly measure your results, because only then can you remain motivated and committed to your journey.
But this is the point at which 95% of people (or more) fail! Tracking results…
So, here comes the revolutionary web application mensure.me to help you in this task of maintain, monitoring and constantly improving results, as consistency is the main element of any long-term sustainable healthy lifestyle project or body recomposition process.
*** user: Mary / password: Mary
TESTIMONIALS
See what people are saying about mensure.me
"Each entry I make in the mensure diary helps me to realize, day by day, that I am taking steps towards my goals. Then, with the physical evaluations, I can see that the only way to reach my goal in good shape is to walk step by step, without hurry! It really works like a GPS. Promotes a sense of security on the way to fitness."
"Essential tool to stay focused on a healthy lifestyle, easily and consistently! I know that as creator of mensure.me I am suspicious to speak, but I didn't create this tool just to make money ... I created it because I needed it myself!"
Click on the GIF to pause or play.
Our philosophy is very simple…
Focus on quality instead of quantity!
We know that you are not a machine to measure and monitor your results just like a robot, so when registering your days in our app you are based on evaluation criteria that focus on the quality of your food, training and feelings rather than amounts, calories and points. You can also register photos and at the end of the registration a super cool animated GIF with the summary of your day is automatically generated! =)
*** user: Mary / password: Mary
Finding your fat percentage (%) has never been easier…
Using just a simple measuring tape you find out everything!
We use the US Navy method of physical assessments so you don't have to spend money on other equipment to find out your fat percentage. You can also register your accompanying photos and our application will automatically generate an animated GIF with your before and after that will always be updated with each new registered physical assessment. If you wish, you can also register up to 6 other different methods that use specific equipment to find out your fat percentage.
*** user: Mary / password: Mary
Click on the GIF to pause or play.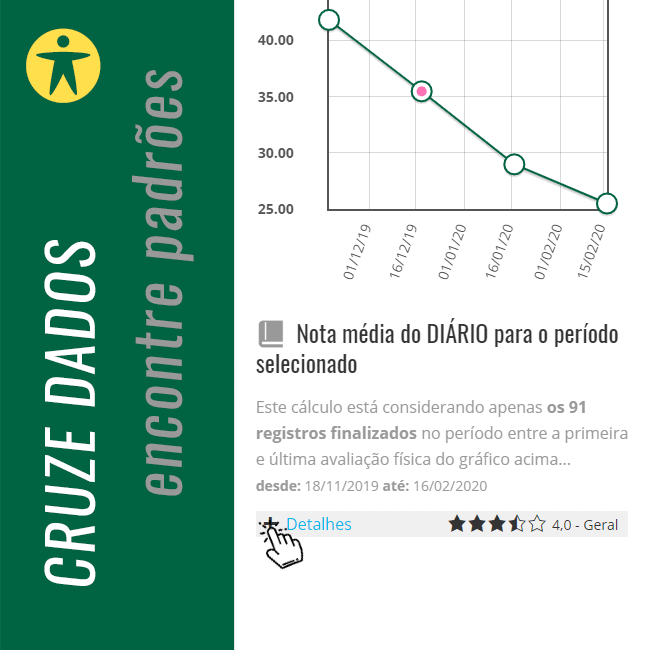 Don't be in the dark…
Cross data and find patterns!
Just below the body evolution chart you can find extremely important information that will show you how your meal, training and feelings routine was during the period between the first and the last physical evaluation on the chart. That way you can find out what is working and also what can be improved (food, exercise or feelings) to obtain better results in the next physical assessments.
*** user: Mary / password: Mary
Finally fulfill your year-end resolutions …
Public commitment for increase your chances of reaching goals!
On the home screen, as well as below any GIF generated by mensure.me, you will find social buttons that can be used to share your results with your friends and family. This technique helps a lot in maintaining focus and consistency, even if you share it with only one person, as it promotes a kind of public commitment that is something very positive in the long term.
*** user: Mary / password: Mary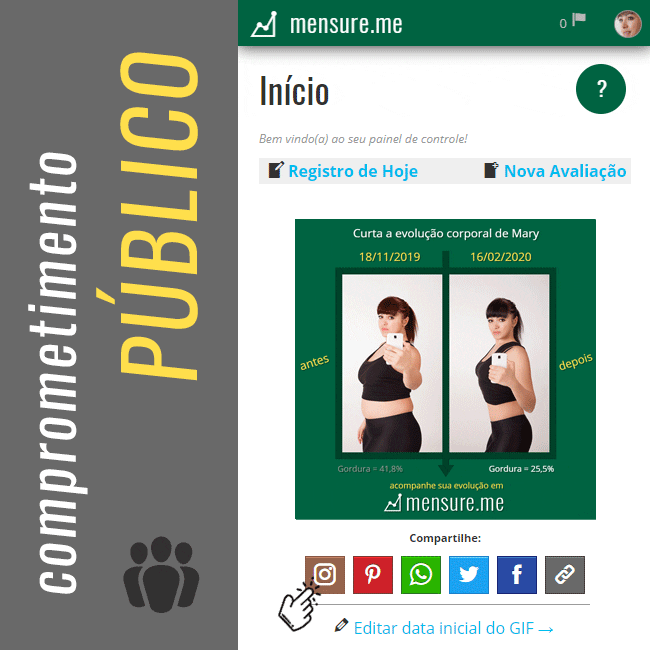 FREQUENT ASK QUESTIONS
See the answers to the most common questions related to our application…
The creation of new accounts on mensure.me is currently unavailable.
Yes! Mensure.me is designed to be used by anyone without any difficulty. You can also consult, whenever necessary, the documentation present on the home screen and the help buttons scattered on the application screens to assist you. There is also an official support forum where you can get clarification for questions about mensure.me and other related topics.
NEVER! We take security very seriously and do everything to keep your data safe. Even the GIF's generated by mensure.me are only shared if you wish.
Follow our networks and also our official hashtag:
mensure.me adapts to different screen sizes
*** user: Mary / password: Mary